This article is a stub that has lack of content. (Reason: incomplete list)

You can help Pet Rescue Saga Wiki by expanding it.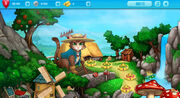 In Pet Rescue Saga, there are currently 2,127 levels (2,157 levels on the mobile version)', all within 143 episodes. (The first episode contains five levels, the second episode contains ten, the third episode contains twelve, the rest containing 15.)
There are currently four level types in Pet Rescue Saga: Rescue, Moves, Classic, and Hybrid.
 Difficulty coding
None • Very Easy • Easy • Somewhat Easy • Medium • Somewhat Hard • Hard • Very Hard • Insanely Hard • Variable
 Note that goals include target score.
Animal Kingdom
Edit
Level
Episode
Type
Moves
Goal
Notes
1
The Farmland

Rescue

Rescue 2 pets
First rescue level
2

Rescue

Rescue 5 pets
3

Rescue

Rescue 3 pets
4

Rescue

Rescue 4 pets
5

Rescue

Rescue 2 pets
5th rescue level in a row
6
Castle Meadows

Score

Rescue 6 pets
First moves level
7

Rescue

Rescue 2 pets
Column Blaster booster unlocked
8

Rescue

Rescue 4 pets
9

Rescue

Rescue 4 pets
10

Rescue

Rescue 5 pets
11

Rescue

Rescue 5 pets
10th rescue level
Block Buster booster unlocked
12

Score

30
Rescue 3 pets
13

Score

25
Rescue 5 pets
Color Pop balloon is introduced
14

Score

70
Rescue 16 pets
Bombs are introduced
15

Score

75
Rescue 16 pets
16
Down Town City

Score

50
Rescue 10 pets
Fortified blocks are introduced
17

Rescue

Rescue 4 pets
18

Rescue

Rescue 6 pets
19

Rescue

Rescue 5 pets
Mesh Masher booster unlocked
20

Score

50
Rescue 8 pets
21

Score

80
Rescue 16 pets
22

Score

Web: 55
Mobile: 70
Web: Rescue 8 pets
Mobile: Rescue 6 pets
23

Rescue

Rescue 7 pets
Pet Carriers are introduced
24

Score

40
Rescue 6 pets
10th moves level
25

Rescue

Rescue 5 pets
26

Rescue

Rescue 12 pets
Color Pop booster unlocked
27

Score

40
Rescue 9 pets
28
Amazonia

Score

35
Rescue 5 pets
29

Rescue

Rescue 4 pets
30

Classic

Clear 100% of the blocks
First classic level
31

Classic

Clear 100% of the blocks
32

Score

55
Rescue 12 pets
33

Rescue

Rescue 9 pets
34

Classic

Clear 100% of the blocks
35

Rescue

Rescue 5 pets
36

Score

45
Rescue 11 pets
37

Classic

Clear 100% of the blocks
38

Rescue

Rescue 6 pets
39

Rescue

Rescue 7 pets
40

Score

75
Rescue 10 pets
41

Rescue

Rescue 8 pets
42

Score

21
Rescue 6 pets
43
The Oceanean Sea

Score

28
Rescue 4 pets
44

Score

40
Rescue 8 pets
45

Score

55
Rescue 9 pets
46

Rescue

Rescue 4 pets
47

Score

32
Rescue 6 pets
48

Score

45
Rescue 12 pets
49

Score

50
Rescue 9 pets
50

Score

65
Rescue 10 pets
51

Score

32
Rescue 6 pets
52

Rescue

Rescue 6 pets
53

Rescue

Rescue 6 pets
54

Score

40
Rescue 5 pets
55

Rescue

Rescue 5 pets
56

Rescue

Rescue 4 pets
57

Rescue

Rescue 3 pets
58
Volcano Lagoon

Score

35
Rescue 3 pets
59

Classic

Clear 85% of the blocks
60

Classic

Clear 90% of the blocks
61

Rescue

Rescue 6 pets
62

Classic

Clear 85% of the blocks
63

Score

70
Rescue 5 pets
64

Rescue

Rescue 4 pets
65

Score

55
Rescue 4 pets
66

Score

30
Rescue 3 pets
67

Rescue

Rescue 2 pets
68

Score

50
Rescue 3 pets
69

Rescue

Rescue 4 pets
70

Rescue

Rescue 5 pets
71

Rescue

Rescue 8 pets
72

Rescue

Rescue 3 pets
73
Ancient Sands

Score

66
Rescue 16 pets
74

Rescue

Rescue 4 pets
75

Score

50
Rescue 5 pets
76

Rescue

Rescue 4 pets
77

Score

50
Rescue 3 pets
78

Score

60
Rescue 4 pets
79

Rescue

Rescue 4 pets
80

Rescue

Rescue 4 pets
81

Rescue

Rescue 4 pets
82

Rescue

Rescue 5 pets
83

Classic

Clear 100% of the blocks
84

Score

40
Rescue 4 pets
85

Rescue

Rescue 6 pets
86

Score

52
Rescue 14 pets
87

Rescue

Rescue 6 pets
88
Sunset Savannah

Rescue

Rescue 6 pets
89

Score

22
Rescue 4 pets
90

Classic

Clear 100% of the blocks
91

Score

35
Rescue 3 pets
92

Rescue

Rescue 9 pets
93

Rescue

Rescue 2 pets
94

Rescue

Rescue 7 pets
95

Rescue

Rescue 5 pets
96
97
98
99
100

Rescue

Rescue 5 pets
101
102
103
Bamboo Hills
104
105
106
107
108
109
110
111

Classic

Clear 100% of the blocks
112
113
114
115
116
117

Rescue

Rescue 6 pets
118
Ruddy Outback
119
120
121
122
123
124
125
126
127
128
129
130
131
132
133
Winter's Edge
134
135
136

Classic

Clear 95% of the blocks
137
138
139
140
141
142
143
144
145
146
147

Score

30
Rescue 6 pets
Mystic Path
Edit