The Farmland is the 1st episode in Pet Rescue Saga and the first episode in Animal Kingdom.
Level types:
Before Episode: The Pig wonders, "What is it about time to do?"
After Episode: The Pig says to the Bird, "Well, it's about time to go out & explore the world!" Then, the Bird says, "I agree."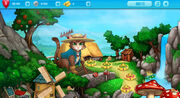 New things
Edit
The first two level types are introduced: 
The Farmland contains levels 1 to 5. 
 Difficulty coding
None • Very Easy • Easy • Somewhat Easy • Medium • Somewhat Hard • Hard • Very Hard • Insanely Hard • Variable
 Note that goals include target score.
Ad blocker interference detected!
Wikia is a free-to-use site that makes money from advertising. We have a modified experience for viewers using ad blockers

Wikia is not accessible if you've made further modifications. Remove the custom ad blocker rule(s) and the page will load as expected.